UK households could save over £20billion of energy per year through efficiency improvements
Wales stands to gain the most from new measures; average Welsh property would save £1,292 a year in bills​
New analysis from Eight Versa assessed over 23million domestic EPCs lodged for 340 boroughs in England and Wales
The analysis shows that more than two thirds of existing households have an EPC rating of C and D
60% of all households have an EPC rating of D or lower
Yorkshire and the Humber stands to benefit the most of any English region; average household in the region could save almost £1200 a year
December 22nd, 2022, London – New analysis from Eight Versa, a multidisciplinary sustainability consultancy, reveals how households in England and Wales could, collectively, save over £20billion worth of energy a year if they were to improve their EPC ratings through relatively simple efficiency measures such as low energy lighting and heating upgrades such as floor/wall/roof insulation.
In an extensive study, the Eight Versa data analysis team assessed over 23 million domestic EPCs lodged for 340 boroughs in the UK. Through this analysis, Eight Versa has been able to calculate the potential cost savings that could be enjoyed by households in 2023 across England and Wales if the recommended energy savings from EPC ratings were implemented.
Commenting on the new analysis, Chris Hocknell, Director at Eight Versa said: "These results show there's not just a strong environmental argument for better efficiency and retrofitting our homes; there is also a very powerful economic argument. In some regions, the average savings per year are over £1000 with 2022/2023 energy prices; that's an important difference where we have many people struggling with the cost of living crisis.
"On a nationwide scale, the findings are highly significant. Households could collectively be saving over £20billion a year in energy bills; this would not only go a long way towards helping the UK move towards Net Zero, but it would help reduce stress on our energy infrastructure and reduce the potential risk of winter blackouts and make us less economically exposed and dependent on other nations for energy. These improvements are just the energy efficiency measures that are relatively straightforward to implement, they do not include renewables like heat pumps and photovoltaics.
These opportunities have been on the table for years but haven't happened because there hasn't been the necessary political will and an effective funding structure. With energy prices as they are now and for the foreseeable future the government will have to intervene to the tune of £16billion over the next 3 months, we're now learning the opportunity cost of not seeing energy efficiency as a strategic interest for the UK. If this energy efficiency strategy had been pursued 10 years ago, the government would not have to spend the enormous financial sums it's about to during a deteriorating economic climate, and several billion £s of energy savings could have been enjoyed every year until now.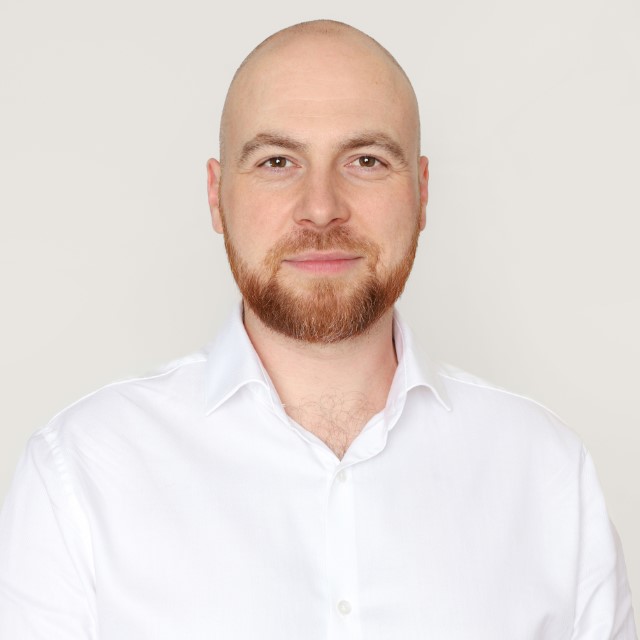 It's important to state that the typical homeowner won't realise these benefits unless there is a standardised and coherent regulatory structure to incentivise and support these improvements over the long term. Recent events have cast this issue into a new and starker light; let's hope decision-makers in government take note and start to act accordingly."
The savings potential (in £ and kWh) per region in the UK*
Rank

Region

Total Cost Saving for the Region (£)

Cost Savings per

Property

(£ average on 2022-23 prices)

1

Wales

 £1,500,236,890

 £1,292

2

Yorkshire and the Humber

 £2,426,321,577

 £1,188

3

North West

 £3,087,295,534

 £1,143

4

South West

 £1,856,425,186

 £1,078

5

East Midlands

 £1,713,599,994

 £1,146

6

West Midlands

 £1,081,194,658

 £1,013

7

East of England

 £2,349,871,814

 £1,009

8

North East

 £1,173,445,237

 £1,035

9

South East

 £2,646,421,594

 £975

10

London

 £2,512,040,979

 £721
*excludes Northern Ireland and Scotland
With focus on helping the UK achieve Net Zero, Eight Versa launched Natural  Carbon Solutions (NCS) in 2021 to help organisations of all sizes tackle the need to accurately certify efforts and achievements on the route to Net Zero. In October 2022, Natural Carbon Solutions publicly released its Footprinting and Offsetting Protocols which outline the extensive criteria for certifying clients.
The certification scheme harmonises and incorporate to all the latest international standards including PAS, SBTi, GHG Protocol, plus many more, and is available for organisations, buildings, events or products. There are few certification schemes available that covers such a robust set of standards, and it is the first UK Net Zero certification scheme for buildings.
Natural Carbon Solutions was established by Eight Versa, a multidisciplinary sustainability consultancy with over 14 years' experience in the market. Eight Versa recognised the need for greater credibility and integrity in carbon reduction policy, and so established this third-party certification scheme to deliver greater accountability for Net Zero ambitions. This new analysis of EPC ratings across England and Wales, and the development and ongoing work of the Natural Carbon Solutions certification process, both serve as examples of Eight Versa's commitment to helping businesses and households in the UK work towards Net Zero emissions and achieve climate resilience.
Methodology
The study focused on the domestic Energy Performance Certificate (EPC) data. We analysed 23,155,252 domestic EPCs lodged for 340 boroughs in England in Wales. These are the total lodged EPCs as up to September 2022.
Each EPC provides a series of data, which has been analysed and processed to calculate the findings of this study. The following are the main data that have been used for the study:
The existing EPC rating (A most efficient, G the least efficient
The potential EPC rating following suggested improvements (A most efficient, G the least efficient)
Existing primary and final energy consumption
Potential primary and final energy consumption (following suggested improvements)
The publicly available aggregated EPC data provides only primary energy and not the end use energy (final energy). Primary energy is the amount of energy needed prior to transformation, conversion and distribution and was used to estimate the final energy demand using domestic consumption profiles and UK ONS energy policy data.
The analysis shows that a typical dwelling has an EPC rating of D. With the implementation of the improvements recognised by the EPC recommendation methodology the potential EPC rating of a typical dwelling could be a B rating. A breakdown of all the existing and potential EPC ratings is shown below.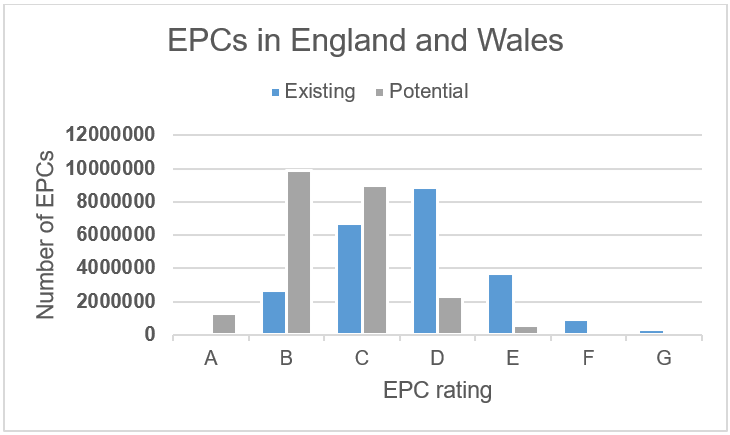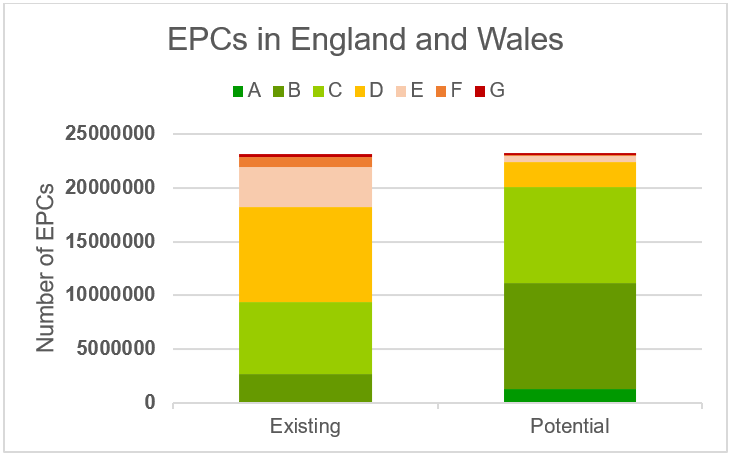 A package of improvement measures has been recommended for each dwelling based on the available data and feasibility. The most common measures are:
Low energy lighting for all fixed outlets
Replace boiler with new condensing boiler
Floor insulation
Wall insulation
Roof insulation
Upgrading heating controls
Replacement glazing units
Solar water heating
This study assumes that all energy efficiency measures recommended by the EPC methodology are implemented. Some of these measures will achieve very long payback periods (i.e. greater than 15 years) and would not be considered economically acceptable. However, there are many other energy conservation measures which are not included in the EPC methodology which would be economic and provide substantial carbon savings, such as mechanical heat recovery ventilation, heat pumps and PV panels.
As such the energy and carbon savings identified in this study can be considered an estimate of what a technically feasible and practical for mass implementation across the country.
It is estimated that these measures would achieve an annual primary energy reduction of 215,163,373 MWh, which is estimated to be 161,482,964 MWh of final energy.
The annual operational cost saving, based on the energy price cap of 34p per kWh of electricity and 10p per kWh for gas, would be around £20.3 billion. Historically, prior to the rapid energy price inflation of 2022, this saving would have been approx. £8 billion.
The approximate capital cost of implementing these energy efficiency measures would be £200 to 250 billion, note that the marginal capital cost of additional energy efficiency as part of routine maintenance and replacement is substantially lower.
Chris Hocknell, Director
Chris brings over 17 years' experience of supporting the built environment and corporate world with their sustainability goals. Specialising in sustainability strategy development, Chris works closely with clients to assess and understand their carbon and environmental footprint.