The Paris Agreement has not only the potential to unite the world's nations together over a common clause, but also the promise of combatting dangerous changes to the climate globally.
In Basic Terms
An 'agreement' is the term often used for legally binding international treaties. The Paris Agreement outlines a global framework to avoid serious climate change and rising temperatures. This was signed by over 195 countries, aiming to limit global warming to well below 2 degrees Celsius (preferably to 1.5). Through its mission, the treaty also aims to strengthen our ability to overcome the impacts of climate change and lend support to other nations in their efforts. Therefore, many see it as a landmark treaty.
To achieve the necessary temperature limits, pursuant efforts to reduce global greenhouse gas emissions (GHGs) are increasing. Nations are encouraged to work closely together, the Agreement advocates that well-developed nations support those emerging economies to best achieve the desired outcome.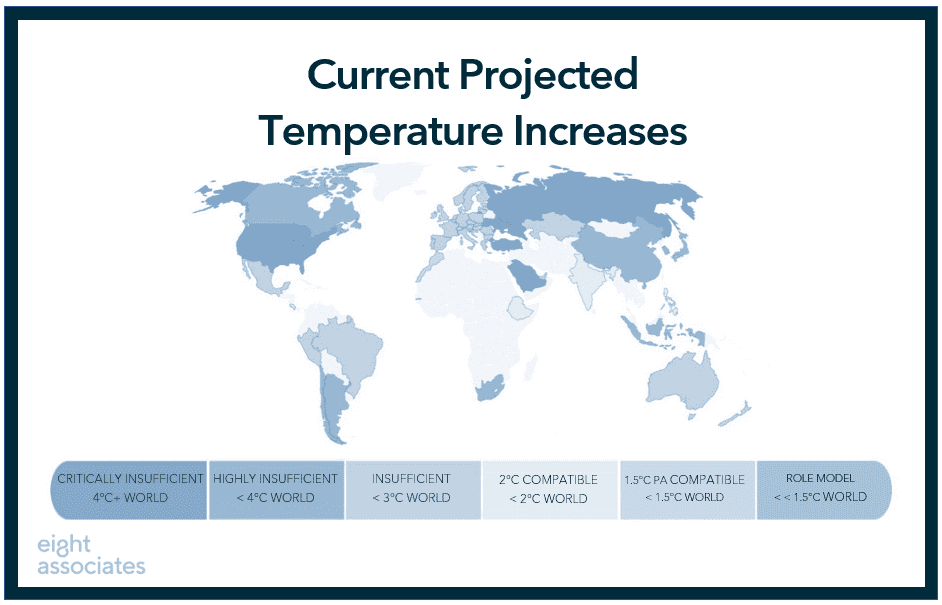 How The Treaty Works
For the world to reach the targets of the Paris Agreement, GHGs need to peak as soon as possible and begin to decline. To achieve this goal, economic and social transformations are required, at a fast pace to limit the long-term effects of increasing temperatures on the planet. Nations who have signed the treaty have agreed to work on five-year cycles of increasingly ambitious climate action(s). Countries have submitted their plans via actions classified as Nationally Determined Contributions (NDCs).
Governments have set in place ambitious targets to reduce carbon emissions to deliver on their NDCs:
• GHG emissions from agriculture across the EU has fallen by 23% since 1990,
• The Gambia, which is on track to reduce its emissions by 44% in 2025 compared to business-as-usual,
• The use of coal-fired power in the UK has been drastically reduced accounting for only 1.8% of the UK's electricity mix, compared with 40% a decade ago,
• Morocco has made massive investment into renewable energy, having achieved 42% of their electricity from clean sources by 2020 and hoping to achieve 52% by 2030.
NDCs must be science-based published targets, and member countries are held accountable by each other if they fail to deliver these. In other words, to effectively tackle climate change we must work together, and the Paris Agreement aims to guide us all towards achieving this goal.
Relevant examples of this in the current context include:
• Poorer nations calling for $100bn of financial aid, arguing they are already suffering and will continue to be those who are worst affected by climate change.
• The UK pledging £290m to assist those developing countries to cope with the impact of climate change at COP26.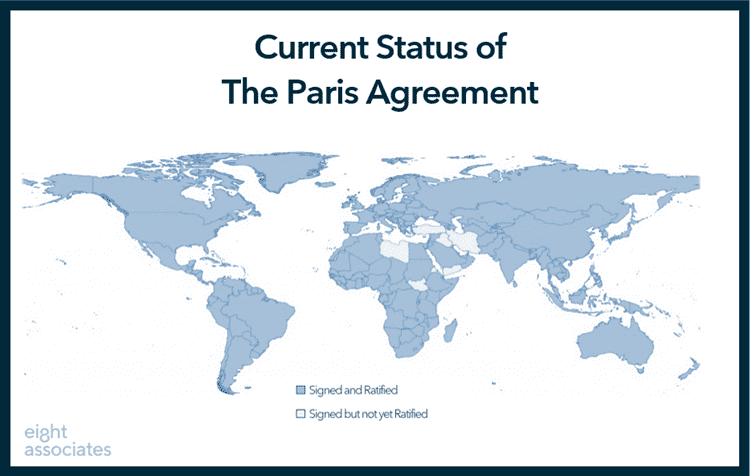 Strategy To Stay Below 2°c
If we want to achieve our goals, the Paris Agreement demands us to apply efficient strategies to reach these. First off, an accurate measurement of emissions is crucial. Without this, nations cannot effectively contribute to the required global declines in emissions. This is vital both now and throughout the future.
Nations that have signed the treaty must commit to goals that are feasible, realistic, and achievable for their economies. Alongside this, methods of achieving reductions and the necessary resources to reach these goals must be accurately communicated. NDCs for all nations must therefore be openly declared, pragmatic and time bound.
The Paris Agreement encourages nations' commitments to consistently increase and improve over time. A single nation's commitment to emission reduction will never be perfect, but they can aspire to always be better than their past self. As a result of encompassing this attitude to the climate crisis, an ever-increasing Climate Positive accreditation should be in your sights. This is when you offset more emissions than those that you put out.
Ever-advancing technological developments are also key. Almost everything we consume and the transport we take increases our carbon footprint. We therefore need to invent new and encompassing technologies that help us to reduce or avoid emitting greenhouse gases. Then, with the help of financial developments we need to make these effective, reliable, and cheap. This commercialisation is fundamental to ensure the adoption of developments and new technology into everyday life, thus the overall achievement of emissions reductions.
Increasingly, large-scale investments and capacity-building are required to significantly reduce emissions. Financial developments are therefore fundamental to ensure enough resources are available to make this achievable for nations' worldwide. Financial inequality between nations' is vast, and climate finance is vital to reduce this mitigation, better organise and allocate resources. Finance is effectively at the heart of our global ability to be resilient, adapt to changes and as a result solve the climate crisis.
Our Purpose
The Paris Agreement highlights the urgency of the climate crisis and how it can be mitigated, prompting governments around the world to introduce policies that corporations are required to comply with. The recent discussion at COP26 highlighted the need to scale an effective and efficient voluntary carbon market to help meet the goals of the Paris Agreement. It's crucial and this issue is imminent.
Get in touch with us here to find out more on how you can accurately measure, reduce, and reach Net Zero.